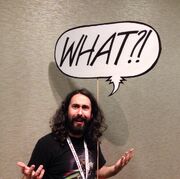 Exclamation made by
Miles
at the end of each episode's cold open to express disbelief at the tangled web of continuity that Rachel has just articulated.
In early episodes, Rachel occasionally made the exclamation while Miles explained, but in later episodes, the WHAT?! has been solely the domain of Miles.
In guest episodes, Rachel and Miles typically deliver the WHAT?! in unison.
Ad blocker interference detected!
Wikia is a free-to-use site that makes money from advertising. We have a modified experience for viewers using ad blockers

Wikia is not accessible if you've made further modifications. Remove the custom ad blocker rule(s) and the page will load as expected.