Episode Description
In which Jay draws a line in the sand, Rogue hits someone with a bear, Toad develops nuance, and you should totally come see us at ECCC!
Reviewed
Edit
Uncanny X-Men #5

Written by: Cullen Bunn
Pencils by: Greg Land
Inks by: Jay Leisten
Colors by: Nolan Woodard

X-Men '92 #1 (Pick of the week)

Written by: Chris Sims & Chad Bowers
Pencils & Inks by: Alti Firmansyah
Colors by: Matt Milla

All-New X-Men #7

Written by: Dennis Hopeless
Pencils by: Mark Bagley
Inks by: Andrew Hennessy
Colors by: Nolan Woodard
Panel of the Week
Edit
From X-Men '92 #1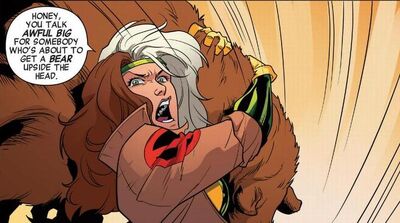 Ad blocker interference detected!
Wikia is a free-to-use site that makes money from advertising. We have a modified experience for viewers using ad blockers

Wikia is not accessible if you've made further modifications. Remove the custom ad blocker rule(s) and the page will load as expected.